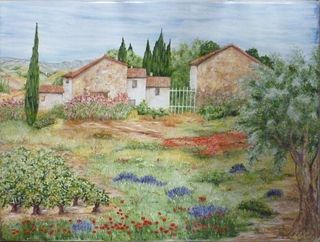 The decoration of Terracotta or Volcanic lava.
We can make, according to your wishes, your decorations either on tiles or panels of lava.
So when you go to the "Projects" page of our site you will find a number of sets made recently according the specific requests.

The decorations are made mostly with a brush on raw enamel (baked) using pure or mixed, with a glass metal oxides, "color painting". The decor and enamel are then cooked in a single firing. But depending on the decorations to be made, additional techniques can be used: decor stencil, manual screen printing, inserts, vintage engraving, etc. ....
It is sometimes necessary to perform several successive firings at different temperatures to obtain the desired result.